Canadian Wilderness Fishing

FA Style
Lake Nipigon is one of the best kept secrets in the fishing world
The largest lake completely in the Province of Ontario, Nipigon is almost 70 miles long, with over 500 islands and thousands of miles of shore line and 98% of the lake is complete wilderness. Join Fellowship Adventures and we'll share our secret with you – go where few people ever visit and fish some of the best fisheries in North America.
Fellowship Adventures Wilderness Floating Lodges
Imagine taking off in one of the most iconic airplanes in the world, The de Havilland Otter float plane as you watch the majesty of Lake Superior's Thunder Bay fade away. During the short thirty minute fight the giant pine forests give way to Lake Nipigon, one of the best kept secrets in the fishing world. As you circle to land, below you will appear the Fellowship Adventures Wilderness Floating Lodges. Two 80 foot long complete custom designed boats that will serve as your home base for an unforgettable week of fishing, fellowship and fun.
Let's Go Fishing!
Trip Registration
Sign up today to join us on an upcoming trip. It only takes a few minutes and helps us ensure we will have everything ready for you upon your arrival.
Trip Information
We want your trip to be great so we thought we'd share some of the common questions folks have as well as let you know what you should pack.
Important Information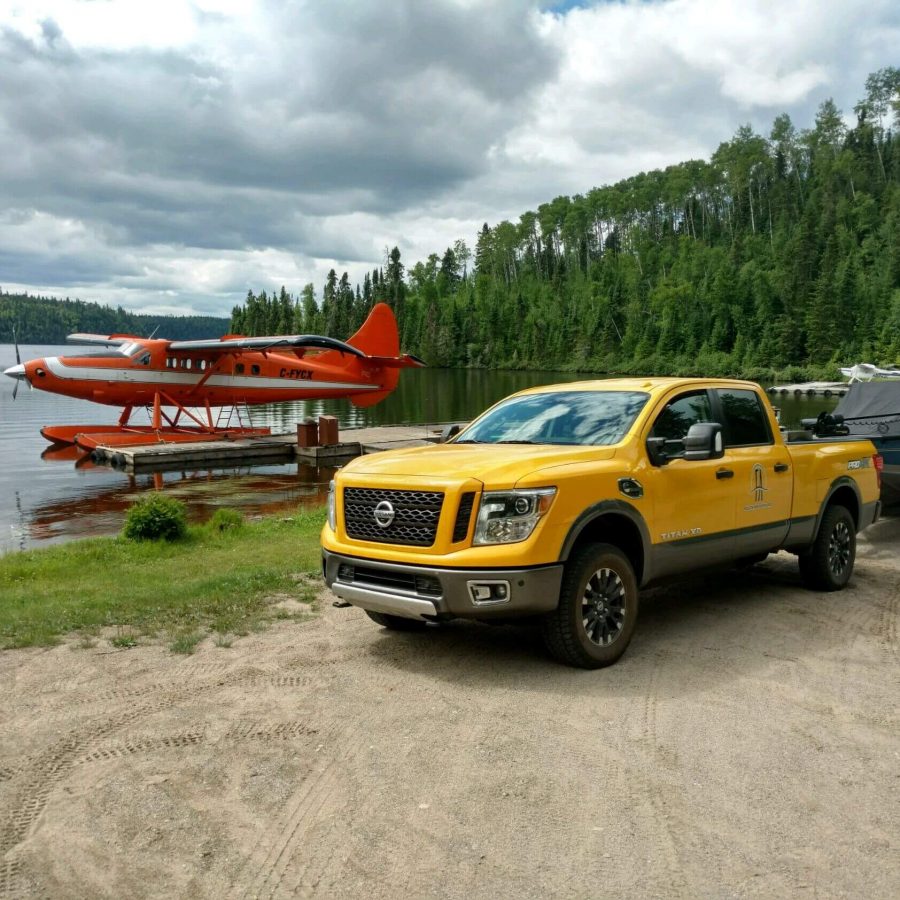 Currently:
Preparation Tips
Book your air travel at least 90 days prior to your arrival date.
Purchase your Ontario Outdoor Card and Non-Resident Fishing License 30 days before your arrival date. see links below
If you are coming as a part of a group, contact your group leader for group specific information.
FLOAT PLANE LUGGAGE IS LIMITED TO 40 LBS PER PERSON excess weight will incur extra charges.
Unfortunately, the best weather and the best fishing don't always cooperate in Canada, so you need to be prepared for a wide variety of weather.
Arrival Day
Your adventure begins with your arrival in Thunder Bay Ontario's modern jet airport. You will be met by the staff of one of our FA partners from the Valhalla Inn and transported less than a mile to your hotel. You can enjoy a meal at their on-site restaurant or catch a cab to discover the local food scene. After dinner you can catch a movie at the near by theaters in this beautiful city of over a 100,000 people.
The following morning after a nice breakfast at your hotel, you will be met and transported the short distance to Thunder Bay's Harbor and Float plane base. After loading up it's only a short thirty to forty five minute flight, but a world away!
Your plane will dock at our boats and we will unload, get you settled in your private room and have a welcome lunch. Then, its on to the water for our first afternoon of fishing. Three more full days of world class fishing, amazing meals, camp fires and fellowship await.
Our Daily Rhythm
It's been said that God doesn't deduct from man's allotted span the hours spent fishing.
Starting Our Day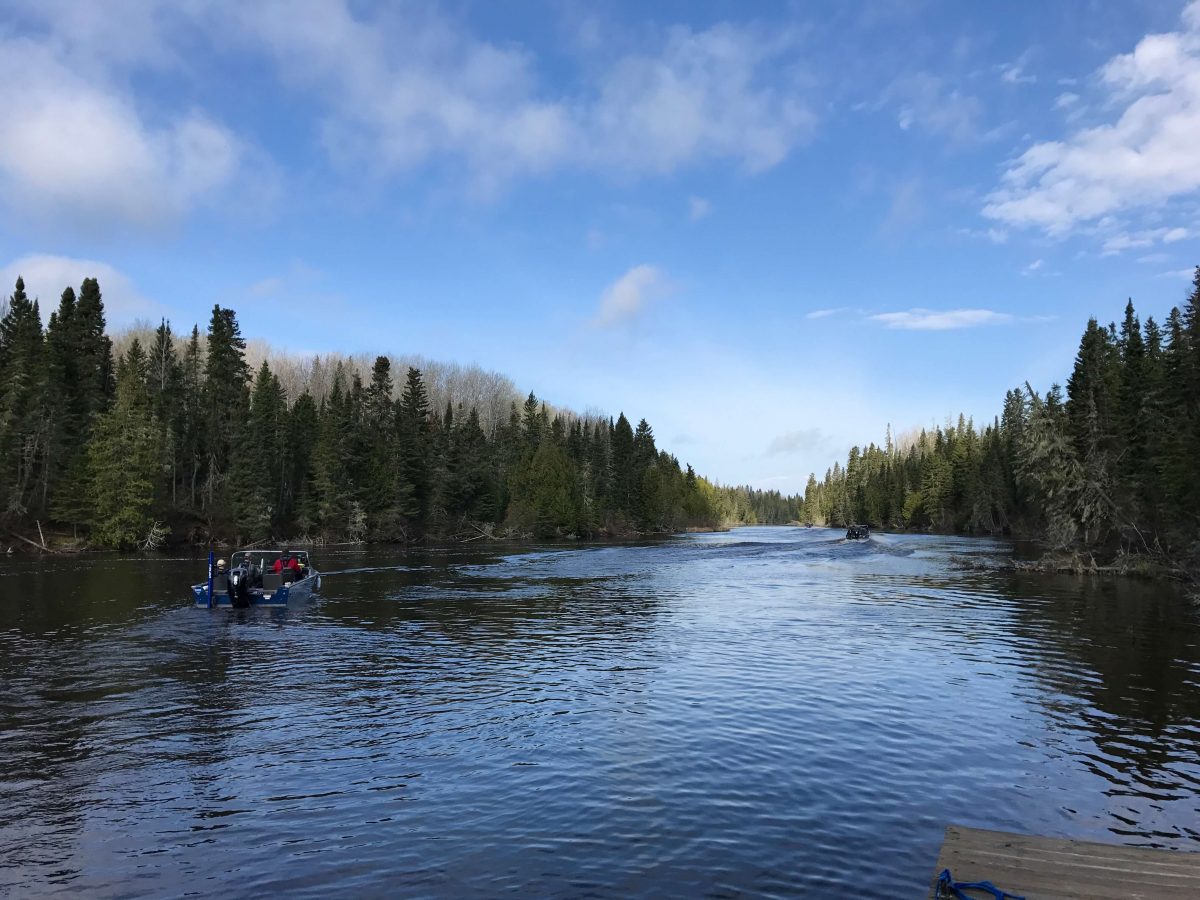 One of the great things about this type of fishing is that we don't have to be out at the crack of dawn.
Our day begins around 7am with a wonderful big-country breakfast. After a final weather and gear check, it's off to our 22ft Lund Impacts where all of your gear is provided, prepped and waiting. We'll then head out to one of our top spots for the day's fishing.
Mid-Day Respite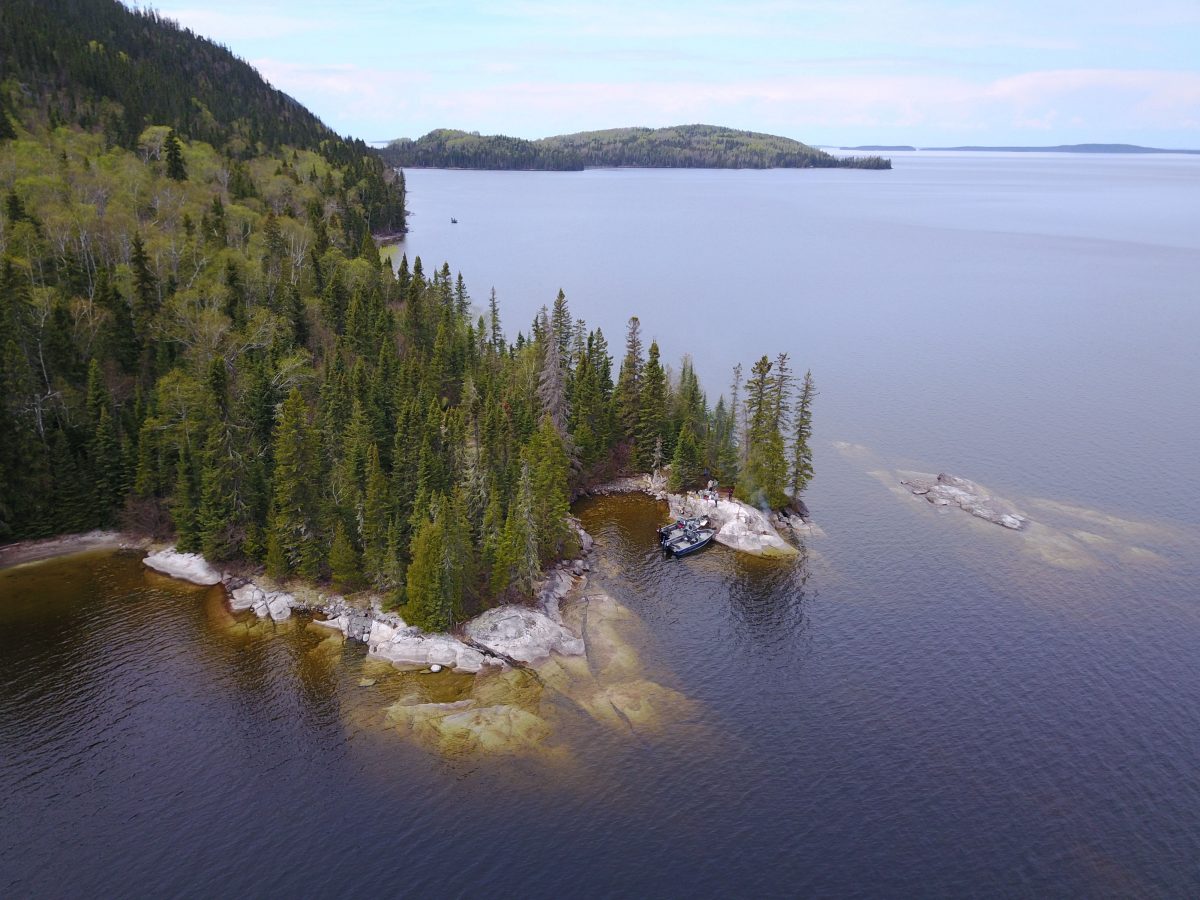 Our lunches are a trip highlight for many of our guests. Every day we partake in a great north woods tradition, "The Shore Lunch".
Around noon we find an impossibly beautiful point, beach the boats, build a big fire and have an amazing shore lunch of fish that is as fresh as it gets. After some time of exploring the shore line or just chilling out (naps are allowed), we pack up the boats and head out for a full afternoon of fishing.
Wrapping Up The Day
As the evening approaches we head back to our floating, luxury lodge for a hot shower and a chance to unwind by enjoying a beverage and hors d'oeuvres in the lodge before dinner. At meal time you will forget that you are miles away from civilization. Our cooking team prepares exciting and diverse fare. They strive to use the freshest ingredients that our purveyors have to offer. You'll enjoy world-class suppers that match the beauty of our surroundings.
After a wonderful supper it's time to relax around the fire, weather permitting.
Our Fishing Adventure
We will target different species of fish in our effort to get everybody some unforgettable catches. We use spinning reels combing the bays and shore lines throwing spoons and spinners. If you are a veteran fisherman or a first timer, this is fun, easy fishing. The boats are comfortable and the gear is first rate. You are literally a cast away from a world class fish.
Northern Pike over 30" are common and every year we catch dozens of fish that exceed 40".
The walleye are a schooling fish that can be challenging to find, but once we do we often catch them in large numbers. Lake Nipigon also holds the world record Brook Trout. Though elusive, our goal is to get all our guests a chance to land one the these truly world class fish that normally run over 20"!
There are places in Canada that you can go and catch more fish, but no place offers the quality of fish and the opportunity to catch a true trophy.
We practice and support catch and release in our trophy fishery. While we understand the desire to take fish home with you, we only keep the fish we eat at shore lunch each day. Also, if you are interested in a mount of your trophy catch FA has a relationship with one of the finest fish taxidermists in the world. From measurements and pictures they will create a replica of your trophy that we believe looks even better than traditional skin mounts and will last for generations. We will have examples of their work and information available at the Lodge.
Departure Day
On the morning of your final day we will enjoy breakfast together then load back onto the plane for your return trip to Thunder Bay to catch your afternoon flight home. Though your body may be tired, our prayer is you are refreshed and encouraged by your time with some good folks in some of God's most beautiful handiwork.
If you have been on an FA trip before or know someone who has, you know that the fishing or hunting is only one part of the adventure. We believe God has called us to create experiences where folks can unplug from their day to day lives and let the power of the Wilderness remind us of its Creator and "set the table" in a way that great fellowship will flourish.
This trip is the culmination of years of dreaming and working to create one of the most unique and remarkable fishing trips in the world. Come join us!