Canadian Wilderness Fishing
Our Base
Wilderness doesn't have to mean an uncomfortable experience.
We stay in rustic, but comfortable cabins with custom bedding, electricity, indoor restrooms and hot showers. And our base is strategically located lakeside which allows quick access to the boats and unforgettable fishing. But more importantly it provides breathtaking, memorable views of the rugged, wild Canadian wilderness.
At meal time, you will forget that you are miles away from civilization while enjoying gourmet breakfasts and suppers. Our lunches are a trip highlight for many of our guests. Every day we partake in a great north woods tradition, "The Shore Lunch". We guarantee the most delicious and "freshest" fish you've ever eaten in some unforgettable surroundings.
The Fishing
Our adventure begins with our arrival in Thunder Bay Ontario, a full service international airport. We leave civilization behind on our 2.5 hour drive to our scenic base camp located on the shores of Lake Nipigon.
Due to the long days of the Canadian summer we will have several hours of fishing on the afternoon of our arrival and a fabulous "shore supper" and sunset. Then, three more full days of world class fishing, amazing meals, camp fires and fellowship.
One of the great things about this type of fishing is that we don't have to be out at the crack of dawn. Our day begins around 7am with a wonderful country breakfast and then it's off to our 22ft Lund's where all of your gear is provided.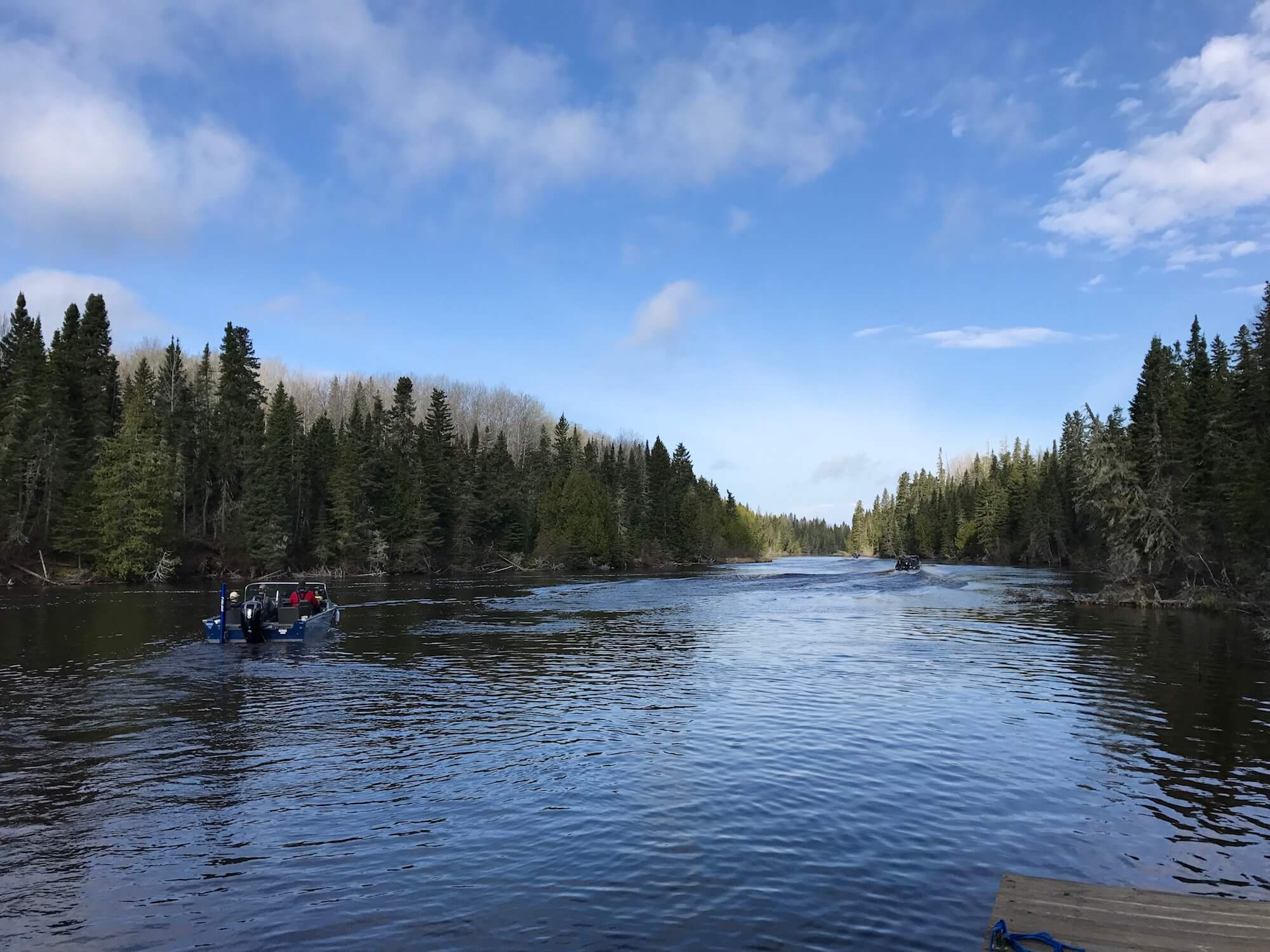 Whether we head to big lake Nipigon or one of the many surrounding lakes we will spend the morning targeting different species of fish in our effort to get everybody some unforgettable catches. We use spinning reels and bait casters combing the bays and shore lines throwing spoons and spinners. If you are a veteran fisherman or a first timer, this is fun easy fishing. The boats are comfortable and the gear is first rate.
Around noon we find an impossibly beautiful point, beach the boats, build a big fire and have an amazing shore lunch of fish that is as fresh as it gets. After some time of exploring the shore line or just chilling out (naps are allowed), we pack up the boats and head out for a full afternoon of fishing. As the evening approaches we head back to our base for a hot shower and wonderful supper and time around the fire.
On the morning of your fifth day we depart for Thunder Bay and the trip home. Though your body may be tired, our prayer is you're refreshed and encouraged by your time with some good folks in some of God's most beautiful handiwork.